Name: Tom Moyes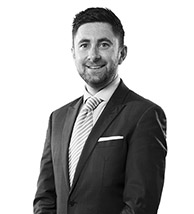 Firm: Blacks Solicitors LLP
Job title: Partner in Employment Law
I qualified as a solicitor in 2009.
The main areas that I cover are …
I advise purely on employment law and HR issues.
I wanted to be an employment solicitor because …
While I was studying for a Masters in Law at the University of Sheffield I really enjoyed the employment law module; I liked the fact that it was about ultimately about people. It was certainly more interesting that Equity and Trusts anyway! I then undertook a 12 month seat in Employment Law just as the recession hit during my Training Contract and never looked back!
The proudest moment of my career to date was …
In many ways, it was being offered a Training Contract. The competition was so fierce and I felt that all my hard work had paid off. I am now the Training Partner at the Firm looking after the trainees and dealing with recruitment. I don't envy students that are coming in to the profession as if anything it has become even more competitive.
After qualification, it was probably saving a client's job at an internal disciplinary hearing in the NHS; her professional career and livelihood was riding on the hearing and it was quite obviously a process motivated by something other than a reasonable belief of misconduct.
An interesting recent case/client I worked on involved …
I am currently dealing with a lot of National Minimum Wage issues for clients. The relevant statutes are not particularly well drafted which has created confusion and potential liabilities for employers, that were often acting in good faith. Coupled with the ever-changing position in respect of holiday pay, it is somewhat of a minefield!
The main challenges that employers in the UK face are …
The removal of the fees to bring claims in the Tribunal has already resulted in a significant increase in claims against employers, which will create further challenges as more claims will be brought in the next 12 months. I expect there to be a downturn in the economy caused by Brexit and therefore a perfect storm is brewing for employment tribunal claims to be issued. HR Professionals are going to need to be on their toes to keep claims to a minimum.
In Leeds the main challenges for employment solicitors are … 
The Leeds employment law market is very competitive and there are some excellent employment solicitors in the city. Therefore, standing out from the competition is probably our biggest challenge. We do this by responding quickly to our clients (even if it is just a matter of just letting them know that we won't be able to deal with their query instantaneously; we think this is appreciated).
I think it is worth raising the point that the challenges in the Leeds market are very similar to those nationwide. Whilst it used to be the case that clients would prefer to deal with a solicitor in their locality they are now more prepared to look further afield, especially with the comfort in using video conferencing and technology to take and receive instructions. We are finding an increase in instructions from London based clients for example – improvements in technology are making the market more competitive.
The major change I'd like to see in employment law is …
I think there should be concessions made for smaller employers in respect of some laws. It seems unfair to me that the same legal principles should apply to Tesco as they do to small organisations, as it can restrict growth and development. I appreciate that it would be difficult to put into practice, but it is something that would benefit from further review.
You may not know this but outside work, I'm very good at …
I'm not sure if I am good at it, but last year I built my own house. Well, it hasn't collapsed yet…
The best way for HRs to contact me is:
TMoyes@LawBlacks.com or 0113 2279238.